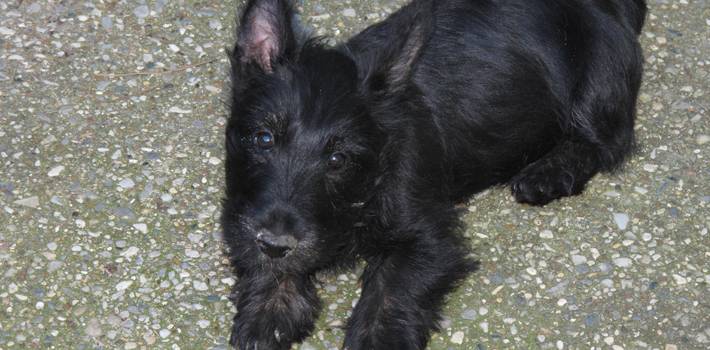 Why a Scottish Terrier?
The Scottish terrier nicknamed "Diehard" is a tough, smart, determined character, ready for action dog. Scotties are fearless and fiesty and may be aggressive toward other dogs. However, our Scotties play with our border collies and German Shepherd. They are reserved but friendly with strangers. They are very devoted to our family. They can be stubborn and independent, but also very sensitive. President Franklin Roosevelt had a Scotty named Fala who was his constant companion.
Scottish terriers love adventure and they need exercise. A walk on a leash, romp in the back yard, or a good game will do. Scotties hair coat should be brushed two to three times per week. We have a wheaten Scottish terrier stud and two black females so we can have wheaten or black color puppies.
The Brister family knows you will love Scottish terriers as much as we do.
Scottie Color & Size
Size
The Scottish Terrier should have a thick body and heavy bone. The principal objective must be symmetry and balance without exaggeration. Equal consideration shall be given to height, weight, length of back and length of head. Height at withers for either sex should be about 10 inches. The length of back from withers to set-on of tail should be approximately 11 inches. Generally, a well-balanced Scottish Terrier dog should weigh from 19-22 punds and a bitch from 18- 21 pounds.
Color
Black, wheaten or brindle of any color. Many black and brindle dogs have sprinklings of white or silver hairs in their coats which are normal and not to be penalized. White can be allowed only on the chest and chin and that to a slight extent only.
Scottish Terrier History
The Scottish Terrier as we find it today has been bred in purity for many years. The first show to have a class of Scottish Terriers was at Birmingham, England, in 1860. Later, a number of other shows carried this classification, but the dogs shown in these classes were not Scottish Terriers, but Skyes, Dandie Dinmonts, and Yourkshires.
All the while, however,Scotsmen who saw these dogs winning as Scottish Terriers were indignant, and about 1877 they broke into print in the Live Stock Journal with a series of letters protesting the situation and discussing the points and character of the true Scottish Terrier. The discussiono wasex so furious that the editors finally called a halt with the statement, "We see no use in prolonging this discussion unless each correspondent described the dog which he holds to be the true type." This challenge was taken up by Captain Gordon Murray, who in a letter to the Stock Keeper under the nom de plume of "Strathbogie," described in detail his concetion of a proper Scottish Terrier. This quieted the warring factions and about 1880 J.B. Morrison was persuaded to draw up a standard. This was accepted by all parties.
The essentials of this standard have been retained in all the later standards, only minor changes having been introduced. In 1882 the Scottish Terrier Club was organized with joint officers for England and Scotland. Later, as interst in the breed grew, the two countries organized separate clubs, although they have always worked harmoniously together.
Microchip Information
For people wanting their new puppy to have an extra measure of protection in case they are lost, I recommend microchipping your dog. I will microchip your new puppy for an additional $60.00 charge.
I use the Home Again microchips. The home Again Micro Chip is recommended by the American Kennel Club. All of our adult dogs are microchipped with Home Again. We have had outstanding experiences with this microchip and highly recommend it.
You can click on the link below and get detailed information about the Home Again Micro Chip and how microchipping works. If you have any questions at all, do not hesitate to call or e-mail me anytime for more detailed information.
Shipping Information
Sorry but we no longer ship. If you want a puppy you need to be able to come to our place and visit.
We've been shipping our puppies all over the United States for a little over 7 years now. We've shipped every where from Boston, Washington D.C., San Diego, and everywhere in between. We prefer to use Continental Airlines but will also use American and Delta Airlines (weather permitting). We ship our puppies out of Dallas/Fort Worth International (DFW).
If you are not within driving distance of Granbury, Texas, we can ship a puppy that is at least 8 weeks of age. We charge $350.00 to ship a puppy. For a second puppy in the same crate, add $125.00. This includes travel costs to DFW airport, a FAA approved travel kennel, required vet exam and health certificate. International shipping cost are determined on an individual basis. Please call or email us for pricing on shipping an adult. International shipping often requires fees by the destination country and the U.S.D.A.
A puppy shipped should be available for pick up within an hour of landing. For more detailed information on shipping puppies click on the link below:
Shipping is a concern to some. I hope that I can assure you that it is very safe. We think it is easier on a new puppy to be shipped, than traveling across the country in a car.
The airlines are just as concerned about safety of the pet as the buyer and seller. They love pets and treat them with loving care. I personally have never talked with a new puppy owner that can give me one incident of death or injury to a pet. Delay of arrival can happen but most of the time the airlines pet desk will call and advise you of this delay. This causes no injury or death to the puppy. We tell our new buyers do not worry the puppy will be fine.